---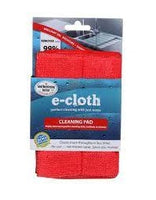 E-Cloth Cleaning Pad
E-cloth
Cleaning Pad laps up spills and messes in a nanosecond. Sectioned for easy folding, the pad traps and removes grime with just water. How? With masses of precision-engineered microfibers. There's no need to add additional cleaners that could travel down the drain or linger in the air you breathe. Just dampen, fold, wipe. It couldn't be easier to erase everything from shower scum to greasy microwave splatters and keep appliances, sinks, showers, tile, and more spotless. To refresh, just drop in boiling water or toss in the laundry. Our cleaning pad is made to last — and guaranteed for 3 years or 300 washes. And we think that stacks up nicely against the mountain of paper towels and containers of cleaning fluids you might use otherwise.
Daily: Rinse and wring out your Cleaning Pad after use.
Weekly: Machine wash up to 195°F (hot) with a small amount of detergent. No bleach, fabric softener or dryer sheets. Hang dry.
As often as you like: To clean and degrease, boil in just water.
Oops! Instructions: If fabric softener is used by accident, rewash with a little detergent on the highest temperature setting.
Made to last: This Cleaning Pad comes with a 3-year or 300-wash promise (when used and cared for as recommended).
Materials: 80% polyester, 20% polyamide
Dimensions: 6.5in x 9in
Country of Origin: Indonesia, Vietnam, South Korea