---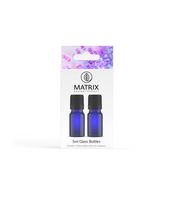 Matrix 5ml Cobalt Glass Bottles
Matrix Aromatherapy
5ml cobalt glass bottles are a "must have" for creating your own personal blends of essential oils for aromatherapy. These glass bottles are perfect for storing your oils or blends, or taking your essential oils with you on the go.
Undiluted essential oils should be stored in glass containers only.  If a plastic container is used, the essential oils may cause the plastic to break down over time, which can destroy the oil.
Cobalt blue and amber bottles are preferred because they are able to block harmful UV light, which is damaging to the oils.  These glass bottles are similar to glass vials, but the glass is much thicker, which makes the color darker, enhancing the UV blocking ability.
The orifice reducer makes dispensing your essential oil easy, allowing only drop by drop of oil to come out of the bottle.  This reduces the chances of spilling your precious oils.

A 5ml (1/6 oz) glass bottle holds approximately 100 to 125 drops of essential oil on average, but will vary depending on the oil's thickness.

Includes 2 Glass mixing bottles with orifice reducers